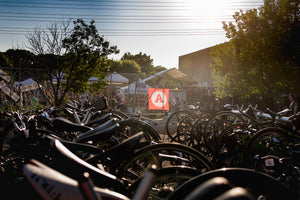 2017 ARTCRANK MSP
Saturday, July 08
4pm – 10pm
LOCATION
Fulton Production Brewery
(Northeast)
2540 2nd Street NE
Minneapolis, MN 55418
ABOUT THE SHOW

Our 2017 show marked
the 10th anniversary of ARTCRANK. We went back through 10 years of Minneapolis shows to pick out a greatest hits album of bike poster art for our biggest and best show ever.
HOST + SPONSOR

Fulton Beer

Fulton
 donated a portion of proceeds to Art Start, a partnership between
Minneapolis Institute of Art
and South Side Minneapolis
Boys & Girls Clubs
.
Photos by Mike Levad, Twin Birch Studios
FEATURED ARTCRANK ARTISTS
Adam Hoganson 
: : Adam Turman : : Allan Peters : :  Amy Jo : : Andy Lund : : Andy Wood : : Anne Ulku : : Brent Gale : : Brian Geihl : : Brian Hartley Sago : : Brock Davis : : Brooke Ekelund : : Courtney Thomas : : Drew Preiner : : Dustin
Schiltz
 : : Ellen Schofield : : Greg Brose : : Hannah Johnson : : Ian Davies : : Igor Dukic : : JC Lovely : : Jason Strong : : Jennifer Davis : : Jess Louwagie : : Jessica Hall Burns : : Joanne Grobe : : Katherine Lamm : : Kelly Munson : : Krisna MacDonald : : Laura Brown : : Leslie Olson : :  Lori Anderson : : Mike Caguin : : Natalie Wynings : : Northwoods Art Dept. : : R. Lootine : : Rachel Roddy : : Rob Angermuller & Scott Agrimson  : : Ross Bruggink : : Ryan Carlson : : Scott Shore : : Sean Cooley : : Sean Tubridy : : Steve "Mario" Marinelli : : Studio On Fire : : Thriving Concern : : Todd Zerger : : TOOTH : : Wink : : Zara Gonzalez Hoang


SPONSORS + PARTNERS 
---
Past Events