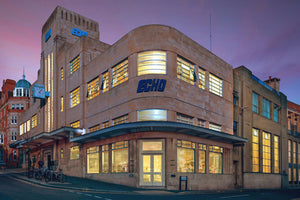 2019 ARTCRANK Bournemouth
ARTCRANK staged our first show in Bournemouth during the Arts by the Sea Festival on 28 September, 2019 at THIS Workspace at The Echo Building in partnership with THIS Event Co., featuring limited-edition prints by U.K. artists.
FEATURED ARTCRANK ARTISTS
Anthony Oram : : Barbara Ana Gomez : : Beach : : Chris Verbick : : Eliza Southwood : : Emma McEvoy : : Gareth Brown : : Jamie Ellul : : Jo Chastney : : Joseph Warren : : Laura-Kate Chapman : : Liz Whiteman Smith : : Luke Manning : : Mark Frudd : : Matt Joyce : : Pete Locke : : Peter Swain : : Rebecca Cleal : : Rebecca J Kaye : : Rob Draper : : Sam Ellis : : Simon Fitzmaurice : : Victory Chimp
LOCATION
THIS Workspace at The Echo Building
18 Albert Road
Bournemouth, England BH1 1BZ
SATURDAY, 28 SEPTEMBER
4:00 — 10:00pm
---
HOST + SPONSOR
THIS EVENT CO.
The team that brings you the successful SKATE and SLIDE events, THIS Event Co. is a collective of passionate project managers, event planners and party starters, creating events which provide spaces for people to relax, escape, have fun and become immersed. Winter, summer, rain or shine, THIS Event Co. curates events of style and distinction.
On this occasion, the location of the event is The Echo Building in the heart of Bournemouth — this timeless Art Deco masterpiece is nestled in the middle of picturesque Richmond Hill and is home to THIS Workspace, a sister company of THIS Event Co. and prime example of how we both develop and stay within the community, bringing together not only a team but a family of businesses. THIS Workspace is more than just a co-working hub for the creative, design and digital industries. It's a multi-functional space in which the community can fully engage and embrace a host of new opportunities and experiences, from gallery evenings and art showcases to film screenings, networking events, and inspirational talks.
THIS Event Co. and THIS Workspace are subsidiaries of THAT Group    
THAT Group : : THIS Event Co. : : THIS Workspace
---
Past Events