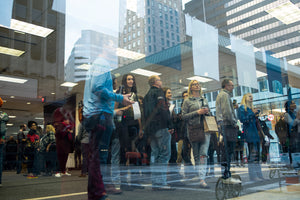 2018 ARTCRANK MSP
Saturday, October 13
4pm – 10pm
IDS Center
80 South 8th Street
Minneapolis, MN 55402
ABOUT THE SHOW
ARTCRANK's 2018 Minneapolis show went down on Saturday, October 13 at IDS Center. Staging a show in one of the most iconic buildings in Minneapolis was a far cry from our DIY bike shop roots, but one thing remained the same: Affordable, bike-inspired poster art created by local artists. The 11th edition of ARTCRANK featured new bike-inspired posters created by more than 40 artists from around the Twin Cities.
For the fourth consecutive year, we teamed up with Fulton Brewing to provide adult refreshments and benefit a local nonprofit organization: Minnesota Cycling Federation and its programs that introduce kids to the sport of cycling, let them try out racing for the first time, and learn how to ride like pros.
Special thanks to IDS Center — which donated the space for the event — and the mpls downtown council for helping us create a showcase of all the ways that cycling is transforming the downtown neighborhood, from commuting to shopping to sightseeing. The Cultural Wellness Center's My Bike Project, another longtime ARTCRANK partner, provided free valet bike parking.


Photos by Mike Levad, Twin Birch Studios
FEATURED ARTCRANK ARTISTS
Adam Turman : : Aleta Perez : : Allan Peters : : Andria Chinander : : Andy Wood : : Anne Ulku : : Brent Gale : : Brian Geihl : : Brooke Ekelund : : Bruce Doscher : : Courtney Thomas : : Dana Kingery : : Danielle Aba-Onu : : David Schwen : : Ellen Schofield : : Erica Mathern : : Erik T. Johnson : : Jake Balch : : Jenny Moran of Wink : : Jared Tuttle : : Jeremy Krzmarzick : : Katherine Lamm : : Kyle Loaney : : Magdalena Panetta : : Matt Erickson : : Matt Sullivan : : Meher Khan : : Melissa Breitenfeldt : : Nicholson Kenney : : Northwoods Art Department : : Rally Cycling : : Raul Villanueva Garcia : : Ryan Carlson : : Signal | Noise : : Steve "Mario" Marinelli : : Todd Zerger : : Vanessa Berglund : : Vincent Night : : Xiaojie Liu : : Yuchen Zhang

SPONSORS + PARTNERS
---
Past Events