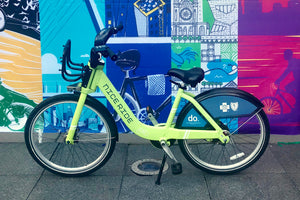 2019 Nice Ride Collaboration
Feature photo by Jenny Moran : : Text by Charles Youel
Discover #NiceRideArt around Minneapolis
Riding a bike is an exercise in discovery. Moving through streets and along pathways on two wheels, we see the sights, surprises, and secrets of a city that go by in a blur when we're in cars — even when that city is the place we call home. 
One of my favorite things about bikeshare in general, and Nice Ride in particular, is that it makes riding a bike a little more accessible for visitors and residents alike. Grabbing a bike gives you the keys to a city for a few blocks or a few miles, inviting you to take a closer look at where you are and where you're going. And in a city like Minneapolis, that experience inevitably ends up including works of art, whether it's an iconic sculpture or a mind-blowing mural. 
ARTCRANK artists have brought those everyday experiences to life in poster form for years, adding their imagination and stylistic flair to the places and spaces that surround us. So I'm especially proud and thrilled that we're working with Nice Ride to showcase five different views of the Minneapolis cycling experience from five different artists with roots in the city.
Even as bikeshare begins to transition to a dockless model, Nice Ride stations have become familiar landmarks around the city. They also happen to make perfect little pop-up galleries for bike-inspired art. When we first started talking with Nice Ride about a way to work together, maybe the hardest part of the conversation was figuring out which poster designs to choose, drawing from the creations of hundreds of artists over the past decade-plus. As Claire Repp, Nice Ride Marketing Lead, put it:
"We wanted to feature different artistic styles and different perspectives of the city. We were particularly looking for works that represented how unique the biking community is in Minneapolis and celebrated the amazing public biking infrastructure we have at our fingertips." 
You'll find these poster designs adding a splash of color at many of the 400 Nice Ride stations in Minneapolis. Which ones? Well, we could tell you, but it's a lot more fun to get out and find them for yourself. When you do, be sure to snap a photo and share it with the hashtag #nicerideart. And if you're feeling extra-generous, tag @ARTCRANK and @NiceRideMN, too.
 
FEATURED ARTCRANK ARTISTS
Adam Turman : : Jenny Moran of Wink : : Krisna MacDonald : : Nicholson Kenney : : Xiaojie Lui 
Photos by ARTCRANK


We Ride by Adam Turman
Adam Turman is an illustrator from Minneapolis, MN, whose bold style offers colorful takes on beloved landmarks and the great outdoors. Adam's murals can be found throughout the Midwest, and his prints in private collections worldwide. He works with major brands, independent businesses, and private collectors to make art part of our everyday.
"We Ride shows that we are all champs in our own way w/o winning a race. I wanted to show the diverse ways that everyone can ride a bike; racing or riding within a city, woods, community...Each color, registration feeds into the other which causes the initial reaction of Wow! Cool! And then as your eyes get beyond the color you can get into the details and diversity of the image."

The Neighborhood Ride by Jenny Moran of Wink
Twilight Ride by Nicholson Kenney
Nicholson Kenney is an artist, designer and musician living in Minneapolis, MN. He has been in the ad business for many moons and is currently a designer at Periscope. When he's not tweaking typography or ideating campaigns, he can be found fronting local bands with his songwriting and guitar chops. He also enjoys a random road trip from time to time with his wife and son.
"Twilight Ride was inspired by late evening summer bike rides around Lake Harriet when the sun is very low in the sky. At dusk, the colors of the sky and the water become surreal as they transition to the night time. I tried to capture the feeling of riding my bike through the strange and beautiful light."
 
Xiaojie Liu is an award-winning illustrator based in Minneapolis, USA. She received her BA in illustration from the Hubei Institute of Fine Arts in 2015, and her MFA in illustration from the Minneapolis College of Art and Design in 2018. Xiaojie focuses on children's illustration, editorial illustration and surface design, etc. for a wide range of projects including children's books, publications, magazines, branding, packaging and many more. She combines mixed media and materials to create illustrations, which include digital and hand drawing, paper cutting, clay, and fabrics.
"My work explores my sense of cultural dislocation, as I constantly question my identity as a Chinese living in another country. One Night in Minneapolis is one of my works that records my life in this city. At night, I looked out of the window of my home and saw the landmark buildings. These reminded me of the good time I spend with my friends by riding my bicycle in this city. Everything was quiet and peaceful."

This post originally appeared in
The Minneapolis Egotist
Other news coverage:
Minneapolis St. Paul Business Journal
Mpls St. Paul Magazine
---
Past Events