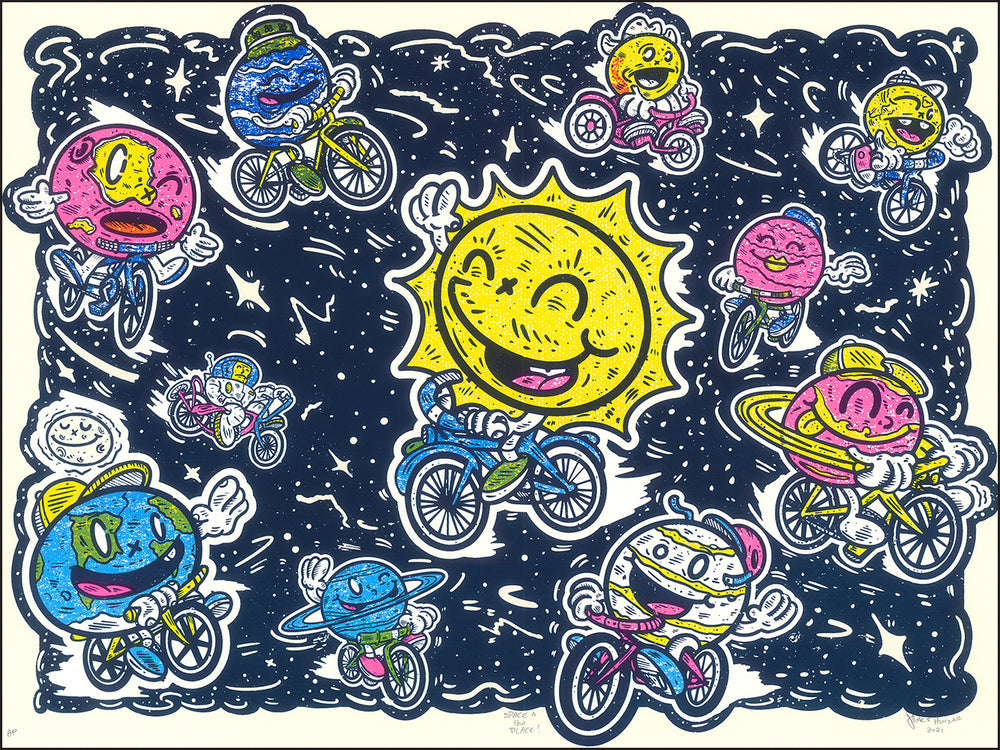 James Huizar
Space is tha Place!
ABOUT THIS POSTER
I was influenced by the song "Space is the Place" by Newcleus. (Listen here!) Life is full of crazy and unrest, it brings me down. And I have found zooming out and not worrying so much about things I cannot control to be very helpful. The world is much larger than the one we currently inhabit. So don't sweat the small things. So here you have it, the solar system smiling, waving and riding bikes in the vast universe. Trippy!
SPECS
INK: 5-color handmade screen print
SIZE: 24" x 18"
Meet James Huizar
LOCATION  
San Antonio, Tejas  USA
ABOUT
James Huizar is born and raised in South Tejas. He works as the Exhibits Manager for the DoSeum (a children's museum/science center) in San Antonio, Texas, where he leads the fabrication, installation, and maintenance of over 300 interactive and traveling exhibits. When not at his full time job, he is a visual artist. Where he applies his fabrication, project management and diverse, skilled knowledge base to his art practice of screen printing, 3D printing, art toy design, and illustration.

GET IN TOUCH with James Huizar
SEE MORE
by James Huizar