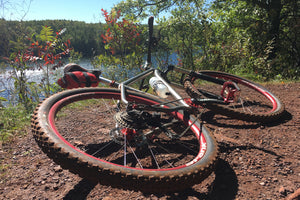 Singletrack To The Future
From Boom to Bust and Back
The original residents of the area now known as Cuyuna were the Dakota and Ojibwe tribes, who established a long portage route from Mille Lacs Lake to the upper Mississippi River. In 1837, a treaty with the Mississippi Band of Ojibwe opened the area to European settlers, and the treaty of 1855 established the Mille Lacs reservation on the southwest shore of Mille Lacs Lake. In 1871, the Northern Pacific Railway came to the growing community of Deerwood.

Deerwood was home to a surveyor named Cuyler Adams. While exploring the area around his property, Adams noticed that needle of his compass behaved peculiarly, which he and others suspected was due to the presence of iron ore — a valuable commodity for a growing industrial nation hungry for steel. Soon enough, the first mines began to operate, with small towns springing up around them. One such town was Cuyuna, incorporated in 1910. As rumor has it, the town was named as a portmanteau of Cuyler Adams and his dog, Una.



Image courtesy of Minnesota Mining History

In 1917, the United States entered World War One and demand for Cuyuna's iron ore surged. At that time, most of the mines were underground operations, many of which closed after the war ended. The newer mines of the 1920s were open pit operations, with massive machinery digging deep into the earth to reach the ore instead of smaller shafts and tunnels.



Image courtesy of Minnesota Mining History

After waning in the Great Depression, mining activity surged again in the 1940s and 50s, driven by World War Two and the Korean War. Production in Cuyuna peaked in 1953 at more than 3.5 million tons of ore. In the 1960s, mining began a rapid decline in the region, continuing to plummet through the 1970s. By the middle of 1980s, the industry was finished in Cuyuna, leaving behind massive empty pits, towering piles of taconite tailings, abandoned buildings and equipment, and an economic disaster in the surrounding communities.

And for the better part of a decade, it looked like that's where the story might end.



Image courtesy of Minnesota Mining History

But after the last of the mining companies left town, a funny thing happened. Nature came back and set about renewing the ruined the landscape. Filled by rainwater, mine pits became deep, clear lakes. Trees and vegetation took root in the piles of red dirt and rock. And while some were convinced that Cuyuna's fortunes and future lay in the return of mining, others envisioned a different way to make the most of the area's natural resources: A state recreation area. In fact, one of the largest such areas ever established in Minnesota. To say that this was a controversial notion in towns with names like Ironton is a fairly significant understatement.



One of the many former pit mines enjoying a promising second career as a lake.

Against most, if not all odds, the Cuyuna Country State Recreation Area was created in 1993. The area remained largely undeveloped until Minnesota Off-Road Cyclists, a nonprofit trail advocacy organization, proposed something even more audacious and unlikely: a destination mountain biking trail. In 2011, that dream became a reality, in the form of 25+ miles of red dirt trails that snaked up and down man-made "mountains" left behind by long-gone miners. The trail was there, but whether or not it would become a destination remained to be seen.



Plotting future singletrack at Cuyuna. (Photo by Hansi Johnson)

As it turns out, the mountain biking world didn't take long to notice: The International Mountain Bicycling Association (IMBA) granted Cuyuna its first-ever Ride Center status in 2012, a special designation for large-scale projects with outstanding trail design. Even mountain bike racing icon and legendary adventurer Hans Rey was blown away: "The Cuyuna Lakes trails are among the best cross-country trail network I have ridden — super flowy and fun. I loved the trails and riding and I'm sure it will do wonders for the local community, and beyond. Everybody who helped this project can be proud of themselves."



MTB legend Hans Rey rips around the new trail. (Photo by Hansi Johnson)

I've got my own history with Cuyuna, about which I'll have more to say in due time. But I'd never actually put wheels to dirt there until this September, when I had the chance to spend four days exploring and enjoying the remarkable cycling experience that's risen like a red phoenix from the ashes of the region's iron mining past.



Typical trail section: Fast, flowy, and red. (Photo by Hansi Johnson)

Shred The Red
When you ride Cuyuna, its past life as the mother lode of Minnesota iron ore is never far from view. You'll catch glimpses of abandoned mining equipment by the side of the trails, pass derelict sheds that once housed various mining operations, and even cross over a few half-buried rails that once carried countless trains heavy laden with ore to the smelting furnaces. But the strongest evidence is always right beneath your feet.

The trails range from ruddy red dirt to shards of taconite that gleam purple-gray in the sun and crackle under your wheels as you lean into a corner or shoot through one of Cuyuna's countless swerving descents. First-time riders can be forgiven for wondering what planet they've landed on, and it's not too much of a stretch to suppose that the singletrack on Mars will look and ride a lot like the Cuyuna trails.



The mining industry's trash is a mountain biker's treasure. (Photo by Hansi Johnson)

On sunny days, the red dust hangs in the air after riders pass and clings tenaciously to your tires, your skin, and whatever you're wearing. (Pro top: Don't ride in anything that you don't want to carry telltale traces of that trademark red dirt.) But when it rains, the trails have another kind of magic in store. The same peculiar soil composition that gives Cuyuna its unmistakable hue also sheds moisture with remarkable speed.

I awoke to a light but persistent rain on my second morning in Cuyuna, and wondered if I'd miss out on a day of riding as a result. Not a chance. Less than three hours after the rain subsided, I found the trails tacky in spots, but never muddy. By late afternoon, it was almost impossible to tell that a single drop had fallen. If anything, the rain improved traction and kept the dust down.

Along the connector trail leading from True North Basecamp to the Portsmouth Unit trailhead.

Part of this is down to the soil itself, and the fact that most of the trails benefit from dense tree cover. But it's not just an accident of nature: these trails have been built to shed water quickly, and to last a long, long time. When you ride Cuyuna, you'll find that you're almost always going up or down, and almost never in a straight line. The trails undulate and curve constantly, winding through forests, up and down ridgelines, and past inspiring views of clear lakes — some up to 500 feet deep. The water itself is an incredible shade of indigo that you'd expect to find in an amusement park, another mineral wonder at which to marvel.

Glaciers reduced Minnesota's topography to a few rolling hills and river valleys long ago, but the mountains of Cuyuna are man-made piles of rocks and dirt hauled up from the depths of the earth over the course of 70-some years. And the trails take advantage of every inch of up and down.

Every climb is rewarded with a sweet descent. (Photo by Hansi Johnson)

The trails of Cuyuna are divided into four "units," which correspond to locations of different mines: Yawkey Unit, Portsmouth Unit, Mahnomen Unit, and Sagamore Unit. Trails range in difficulty from beginner to expert, but hardcore technical features are few and far between and riders of all ability levels will find a lot to love.

Wooden ramps like this are just one way that Cuyuna keeps you on your toes. (Photo by Hansi Johnson)

In the Mahnomen Unit, which contains the lion's share of trails in the system, the climbs on Sand Hog Mountain, Mucker Mountain and Hopper Hill will give you a good cardio workout, but they won't wear you out. Steep sections are always followed by a more gradual grade, and every trip up is rewarded with a scenic overlook, to say nothing of a thrilling descent. You'll find the most grinding climbs on Miner's Mountain, especially the aptly named Crusher. But the view from the top is spectacular in all directions, and the trip back down on trails like Chute, Trammer, Roly Poly, and Sidewinder will take your breath away in a very different fashion.

If you're just passing through, there's ample parking, picnic and bathroom facilities at the Miner's Mountain Rally Center, just off Miner's Mountain Road. It's also a prime spot to fill up on fresh water, and there's even a bike repair station with an assortment of tools and tire pump if you've got any mechanical issues that need sorting.

Bike repair stand at the Miner's Mountain Rally Center.

Much of Cuyuna's best riding is found in the smaller Yawkey Unit section at the network's northeast end. No trip is complete without at least a couple runs on Bob Sled, which had me whooping with glee as I shot down the perfectly banked descents that give the trail its name. The adjacent Tugger will get your legs pumping, and nearby Man Cage offers all sorts of rocky fun. For riders who enjoy more technical challenges, there's a small but daunting obstacle section off of the Skip trail at the top of the hill called Timber Shaft. I skipped most of it, being a more cautious sort these days. But if big boulders and skinny wood bridges are your thing, make sure you give it a shot.

The Dragline trail connects Yawkey to the Portsmouth unit, and also leads you back to the paved Cuyuna Lakes State Trail and True North Basecamp, where I stayed. In the middle of the Portsmouth Unit, you'll find Man High Hill. Named for a high-altitude balloon experiment conducted at the mine in 1959 to test the effects of cosmic radiation on human beings, Man High throws tight switchbacks at you on the way up to the top with a climb worthy of its namesake, and a raucous, rocky ride down.

Taking a breather and taking the scenery from one of the Yawkey Unit trails.

With the exception of the southwestern Sagamore Unit, which I didn't get a chance to ride, every trail in the Cuyuna system is connected, occasionally by paved trail, but mostly by singletrack. Sagamore is very close to the western terminus of the Cuyuna State Trail, but you will have to ride a short stint on a paved county road to reach to trails there. As of now, it's currently all double-track grassland trail until the snow falls, at which point it's groomed for fat biking.

All told, there are just over 25 miles of singletrack at Cuyuna, and you could certainly ride all of it in one solid day. But for a few reasons, I'd recommend staying at least two or three days if you can swing it. First, while the trails are for the most part clearly signed, they're also very close together, with numerous short spurs, loops, and alternate routes. If you're chugging along to hit everything in one swoop, chances are you're going to miss something.

Rock & roll, lake country style (Photo by Hansi Johnson)

I made the trip up from Minneapolis on a Sunday with my riding pals Adam and Ben, who only had the afternoon to ride with me before they had to head back. We covered more than 20 miles in about three hours of riding that left us gassed but grinning like idiots. With the luxury of time, I put in 12-15 miles of riding a day for the next three days, and discovered a half-dozen trails or offshoots we'd missed in our haste to hit as much as possible.

Second, taking a few days to ride also allows you to make more stops along the way to enjoy the natural beauty, the wildlife, and the silent, peaceful solitude of your surroundings. I saw plenty of evidence that I was sharing the trail with others, like cars with empty bike racks in the trailhead lots. But I only encountered them in person on a handful of occasions. I'm guessing that the trails are busier on weekends, but that's a relative term.

My cabin at True North Basecamp, less than 300 yards from the trail.

A Destination For Destination Trail Riders
One of the first new ventures to cater to the cycling crowd drawn by the new destination trail was True North Basecamp, a resort offering cabins and campsites just a few hundred yards from singletrack. There's a central shower house, with high-pressure showers and bathroom facilities. Winter visitors will be happy to learn that it's got heated floors as well. And while people come to Cuyuna to get away from the working world, True North understand the need to stay connected: Wireless internet access is available in all of the cabins and numerous USB charging outlets, and even the campground has a wifi hotspot.

The view from my "front yard" at True North — not too shabby.

The cabins are simple, modern structures that sleep four comfortably, with plenty of room for all the gear that goes with a multi-day bike adventure. Each cabin has a hotel-style heating and air conditioning unit to keep you comfortable no matter what the temperature outside. Outside, there are picnic tables and fire pits for each unit. The cabins let you keep to yourself as much as you want to, but the lakefront view and laidback vibe seem to encourage striking up conversations with your neighbors after a day of riding, or around a campfire at night with a few adult beverages.

Interior at the Twin Six cabin. (There's an ARTCRANK cabin, too!)

Business partners and old friends Jeff Bajek and Dan Jurek opened True North in late 2014, inspired by a less than stellar experience camping in the area with their sons a few years earlier. The scenery was breathtaking by day, but after a bitter cold night huddling in tents through a downpour, they figured there had to be a better way. Not long after, a 40-acre parcel of land on Serpent Creek that was just a stone's throw away from a singletrack connector trail and the paved Cuyuna Lakes State Trail came up for sale, and it felt like fate.

Tough to beat an evening around the fire pit after a day of shredding singletrack.

Dan's known the Cuyuna area since his parents bought a cabin in nearby Emily, Minnesota in the '70s, but his first experience biking the area happened on that fateful camping trip with Jeff. These days, it's safe to say he's hooked. Not just on biking the trails of Cuyuna, but on the future of the community. "The people in the area are very supportive in helping build businesses that help biking grow," he says. "True North Basecamp would not exist if it were not for the support and information the community provided while we were trying to launch."

Since the trail opened, visits to the park have jumped more than 60% to 190,000 people a year. People who bring not just bikes, but much-needed cash to support small town business districts that are still struggling to recover from the economic blow dealt by the departure of the mining industry, and the resulting population drain.

And did I mention the sunsets? Seriously, this show plays every night.

What's more, entrepreneurs are starting up new businesses to make even the most urbane hipster cyclist feel a little more at home in lake country. In downtown Crosby, Red Raven Bike Café will pair bike sales and service with fair trade coffee roasted in nearby Little Falls, craft beer and wine, and a food menu heavy on healthy options. And just down Main Street, Cuyuna Brewing is getting ready to serve thirsty bikers in its tap room with beers inspired by nearby bike trails: Yawkey Red, Crusher IPA, and Manhigh Stout. Word has it that a farm-to-table restaurant concept featuring wood-fired pizzas is in the works as well.

OG members of the Cuyuna trail crew (Photo by Hansi Johnson)

The Crew Gets It All Done
As you might have guessed, a destination trail network — even one made of iron ore — doesn't take care of itself. That task is taken up by the Cuyuna Lakes Mountain Bike Crew, a volunteer army that maintains, advocates for, and staffs events at the trails year around, to the tune of 4,000 hours each calendar year. Mind you, all of this work is being done by fewer than 100 people, or about four people for every mile of trail.

The Crew is headed up by Aaron Hautala, who's lived in the Cuyuna area for the past six years. Aaron exudes an unflagging, contagious enthusiasm for all things Cuyuna. He talks like someone who knows he's got the best-kept secret in the mountain biking world under his feet, and really wishes it weren't so much of a secret.

Aaron Hautala, taking a break from advocating for and working on the Cuyuna trails to actually ride them. (Photo by Aaron Hautala)

"The Cuyuna story is bigger than mountain bicycling," he says. "It's about building a 21st century community anchored on human-powered outdoor recreation combined with an authentic, high-quality, small-town appeal. I always thought I had to live in the mountains to enjoy that. Turns out, the mountains just moved to Minnesota."

Hautala and The Crew have enlisted the aid of bike brands in the Bloomington, Minnesota-based Quality Bicycle Products stable to put on multi-day race events that draw hundreds of bikers and fans to the trails throughout the year. The Salsa Oremageddon caters to cross-country racers, the 45NRTH Whiteout brings out the cold-weather stalwarts on fat-tire bikes, and the Surly Klunkerfunk is a rollicking, ride-what-ya-brung pedal spin for riders of all ages, abilities, and inclinations.

The riding at Cuyuna doesn't stop with the snow. (Photo by Aaron Hautala)

Ask Hautala to talk about the future of the trail network, and you might want to pull up a chair. The immediate challenge is to add three miles of singletrack that will make all of the connector trails between sections one-way (there's currently a few two-way trails tying sections together). Also in the works is a skills park next to the Miner's Mountain Rally Center that will offer more technical riding challenges to riders of all skill levels.

But wait, there's more: The Crew has raised more than $275,000 to design and construct an estimated 14 additional miles of singletrack, including a connecting trail from the Yawkey Unit to the City of Cuyuna Pumptrack, a new eight-mile backcountry adventure trail adjacent to the City of Cuyuna, and a new intermediate gravity flow trail. They need to raise another $60,000 before the end of the year to get matching funds that'll raise the total to $550,000, making all of that trail work possible. (Check out trailforks.com to learn more and perhaps kick in a few ducats of your own.)

75 miles of trails like this, all connected? That's the plan. (Photo by Aaron Hautala)

And that's not even the big prize. That'd be a $3.6 million appropriation from the Minnesota legislature, part of a much larger bonding bill that was scheduled to pass in the 2016 session but was politicked to death for reasons having nothing to do with the trails. Hautala's hopeful that the 2017-2018 session will bring better results. In total, this funding would provide 75 miles of singletrack connecting all the towns in the Cuyuna region. You could literally ride for three straight days without ever repeating a trail. Hautala estimates that such a network would increase the bike-related economic boost to the community from the current $2 million a year to more than $21 million.

My trusty steed, bearing Cuyuna's signature red dirt on the tires.

Back In The Saddle
I'll close with a confession: 10 years ago, I gave up mountain biking.

I fell in love with the idea of riding on dirt as a kid, at the same time that BMX was evolving from a fringe sport for California kids to a national, and eventually global phenomenon. There weren't too many dirt trails to be found within riding distance of my St. Louis neighborhood, so my early adventures mostly involved building jumps in the alley behind our house, or riding around the city in search of scruffy trails and jumps that occasionally sprang up in vacant lots or on the fringes of local parks.

By the time I got to middle school, I felt like I'd outgrown BMX, and my fascination turned to music and all of the other new distractions offered up by adolescence. My bike crush lay largely dormant until I got out of college and discovered these things called mountain bikes, which to me seemed like big BMX bikes. A few years later, a guy I worked with at an advertising agency introduced me to some proper off-road trails, and I was hooked.

Not long after, I got connected with a local advocacy group that built and maintained mountain bike trails in and around the Twin Cities. I was an ad guy looking for a creative outlet that intersected with my passion for bikes. They needed help attracting new members and volunteers to continue growing and maintaining trails in the metro area and beyond. Eventually, I joined the board of directors, first as Director of Marketing, then as Vice President.

Yours truly, on top of the world (and Miner's Mountain).

But as is often the case with volunteer-driven organizations, I found that mountain bike advocacy meant spending more time at a computer and less time on a bike. After a series of disagreements that more or less scuttled my marketing plans for the organization, I stepped down from the board of directors. I was exhausted, frustrated, disappointed, and disillusioned. But worst of all, I'd completely lost interest in mountain biking.

Ironically, all of this happened at a time when some of the high-profile trail projects I'd helped advocate for were finally coming to fruition. Including an incredibly ambitious plan to create a destination mountain biking trail in a central Minnesota's iron range near the towns of Crosby and Ironton. A destination trail that I'd thought about a lot over the decade that followed, especially after I found myself missing dirt enough to give it another shot, but never made the time to ride.

After four days in Cuyuna, all I can say is that it's good to be back. And I can't wait to see what this already amazing trail network — and the community around it — grows into.



Acknowledgements
Many thanks to these fine folks for their contributions to this story.

Cuyuna Lakes Mountain Bike Crew

True North Basecamp

One On One Bicycle Studio

Twin Six

Hansi Johnson
---
---
Also in News
Arriving at the decision to sunset ARTCRANK, at least from a business standpoint, was a lot less surprising than the turnout for our first show, at least to me. Of course, I also had 16 years to think about that one. Not in the sense of being fixated on how all of it would end, but in the sense of thinking about how I would define success where ARTCRANK was concerned.
We've made changes to the way we operate to accommodate the series of new realities we've found ourselves in since March. We've also had a chance to bear down and focus on some ideas that we've had in the works for a long time and just hadn't had the time to pull off. Our new site is one of them.
Bike theft sucks. Bike thieves suck. Here are four simple steps you can take to help you recover your bike if it ever gets stolen.