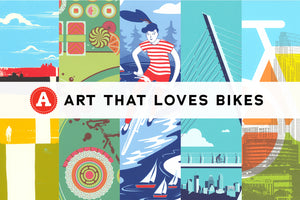 Bike Night at Mia? We're so there.
ARTCRANK exists at the intersection of bikes and art. Naturally, we're big fans of Bike Night — Minneapolis Institute of Art's annual salute to the two things we love best. This year, we're doing our part to make this year's event a little more biketastic by contributing 15 bike-inspired posters designed by Twin Cities artists to a prize drawing for attendees. 

FEATURED ARTCRANK ARTISTS
Adam Martin : : Adam Turman : : Alxndr Jones : : Brain Geihl / Dogfish Media : : Brooke Ekelund : : Cory Loven : : Drew Preiner : : Ellen Schofield : : Jaime Anderson : : Jess Louwagie : : Katie DeYoe : : Kimberly Senn : : Krisna MacDonald : : Sam Soulek : : Todd Zerger 


Join us on Thursday, July 21 from 6:00 pm to 9:00 pm for all the fun. Here's a rundown of what you've got to look forward to:

> RIDE to the event from Surly Brewing Co. with 89.3 The Current, Freewheel Bike, and 30 Days of Biking

> PEDAL to the party right through Mia's doors!

> ADMIRE and enter to win ARTCRANK bike posters. (New this year!)

> EXPLORE the culture of craft with The Growler.

> BIKE SAFE and make art with The Hub Bicycle Co-op safety checks and spin-a-paint.

> ROCK OUT to live music from Warehouse Eyes & Totally Awesome Summer.

> PLAY #BikeNightMia Bingo.

> STRIKE A POSE in the NiceRideMN photobooth.

> CHECK OUT the latest and greatest bike gear from Shinola, One On One, Handsome Cycles, and Cherry Cycles.

> CONNECT with the biking community from Mpls Bike Coalition, Open Streets MPLS, Midtown Greenway Coalition, MPLS BIKE LOVE, Slow Roll Twin Cities, The My Bike Project, Major Taylor Bicycling Club of MN, and Black Girls Do Bike – MSP.

> ENJOY the spectacle of ART Bikes of MN.

> CLIMB an old-fashioned high-wheel bike with the Cycling Museum of Minnesota.

> INDULGE in tasty food truck offerings.

> SHARE your pics and tweets @artsmia #BikeNightMia

89.3 The Current official Bike Night ride details:
Gather at Surly Brewing Co. from 4 – 5:30 pm. At 5:30 pm, 30 Days of Biking and Freewheel Bike will lead a ride to the museum. At the end of the event at 9 pm, the group will lead a ride back to Surly Brewing Co. for the Bike Night after-party!

This event is presented by Shinola.
---
---
Also in News
Arriving at the decision to sunset ARTCRANK, at least from a business standpoint, was a lot less surprising than the turnout for our first show, at least to me. Of course, I also had 16 years to think about that one. Not in the sense of being fixated on how all of it would end, but in the sense of thinking about how I would define success where ARTCRANK was concerned.
We've made changes to the way we operate to accommodate the series of new realities we've found ourselves in since March. We've also had a chance to bear down and focus on some ideas that we've had in the works for a long time and just hadn't had the time to pull off. Our new site is one of them.
Bike theft sucks. Bike thieves suck. Here are four simple steps you can take to help you recover your bike if it ever gets stolen.