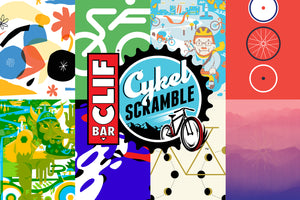 ARTCRANK brings bike art to Clif Bar's CykelScramble
In 2009, when ARTCRANK first ventured forth from Minneapolis with the idea of staging pop-up bike poster shows in cities far and wide, San Francisco was among the first places to welcome us. Since then, the city by the bay has hosted some of our most successful live events, and produced more than a few of our favorite poster designs. Best of all, many of the artists and fans we've met on our trips to SF have become dear friends.
While it doesn't get the accolades that cities like Portland or Minneapolis do for being bike-friendly, San Francisco is home to the nation's largest single-city bike advocacy organization (San Francisco Bicycle Coalition) and a thriving cycling community and culture that cuts across every demographic you can imagine. What's more, the entrepreneurial spirit that nearby Silicon Valley has made famous is just as evident in the bike business, with startups and international brands alike bringing new ideas and products to life.
For me personally, it's a city that gets harder and harder to leave every time I visit. And when we sat down to make what we knew would be a dramatically reduced schedule of live events for 2015, San Francisco was one of the hardest names to cross off the list.
But sometimes, the most interesting things happen last. In this case, Clif Bar, a company we've worked with for the past four-plus years, came to us with an idea for incorporating a pop-up bike art show into a new cycling event they'd created. So, after six years of amazing shows in the Bay Area, ARTCRANK is proud to be part of the first-ever CykelScramble at the Marin County Fairgrounds in San Rafael, California, on Saturday, September 26.
What's a CykelScramble, you ask? It's a free all-day bike relay race and family-friendly festival with gourmet food trucks, a beer and wine garden plus fun stuff for the kids. Live music? Check. San Francisco-based Geographer and Cold War Kids have it covered.
ARTCRANK will sell handmade, bike-inspired posters by Bay Area artists — all priced at $40. (If you want to see previews of the posters we'll feature at the event, follow our Instagram handle.) We'll also be printing t-shirts with splendiferous bikey designs to order, while you watch. A portion of proceeds from t-shirt sales will benefit People for Bikes — a nationwide movement to make riding better for everyone.
FEATURED ARTCRANK ARTISTS
Adrianna Bamber : : Andrew Courter : : Christian Widlic : : Dan Stuckey : : David A.Smith : : Helen Tseng : : Marian Chiao + Martin Grasser : : Michael Wertz : : Moniker : : Speth Szabo : : Lotus Child : : Matt Luckhurst
So if you're in the Bay Area on Saturday, make a point of heading out to Marin to see what happens when cycling culture, creativity, and good, old-fashioned fun get together for a day to remember.
---
---
Also in News
Arriving at the decision to sunset ARTCRANK, at least from a business standpoint, was a lot less surprising than the turnout for our first show, at least to me. Of course, I also had 16 years to think about that one. Not in the sense of being fixated on how all of it would end, but in the sense of thinking about how I would define success where ARTCRANK was concerned.
We've made changes to the way we operate to accommodate the series of new realities we've found ourselves in since March. We've also had a chance to bear down and focus on some ideas that we've had in the works for a long time and just hadn't had the time to pull off. Our new site is one of them.
Bike theft sucks. Bike thieves suck. Here are four simple steps you can take to help you recover your bike if it ever gets stolen.